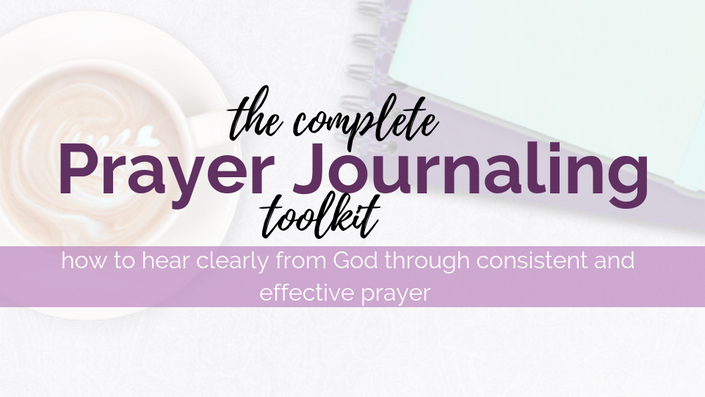 The Complete Prayer Journaling Toolkit
hear clearly from God through consistent and effective prayer
Do you struggle to hear from God on a consistent basis?
My friend, it's time to start listening through prayer journaling!
The Complete Prayer Journaling Toolkit will help you hear clearly from God so you can feel confident that He is working things out for you.
I hear from so many Christian women who are struggling in their prayer life.
They struggle to hear clearly from God. They feel like God is too far away to hear their prayers or care about their pain.
These ladies long for a deeper, more intimate relationship with God but struggle with consistent time in prayer and Bible study. When they actually do get time to pray something always leaves them distracted and unable to focus.
Can you relate?
When hard times come is easy to feel so overwhelmed by hard times and trials that you struggle to connect with God.
You don't spend time in the Word and have no idea how God speaks to you
You struggle to pray consistently and effectively because you don't know what to say and you aren't sure God actually cares
You are so busy trying to figure things out on your own that you haven't taken any time to actually listen for that still small voice
There is hope: God is still speaking to each of us, we just need to learn how to listen.
You can journal your way to a closer connection with God. And when you do that, the possibilities are endless!
3 Easy Steps to Hearing Clearly From God
How can we learn how to spend consistent time with God so that we can hear clearly from Him on a regular basis?
By learning how to recognize His voice, how to talk to Him and how to listen when He speaks. ! I'll show you how in just 3 easy steps.
Get to know God by spending time in His Word: We must spend time in God's word if we want to hear clearly from Him. There's no other way to get to know Him and His voice.
Spend time talking to God in consistent prayer: Make prayer a priority! If we never spend anytime talking to God there is no way for Him to lead and direct our paths.
Listen for God's voice through journaling: Keep what God says to you organized so you can continue to pray over it and not forget what promises God's made to you
You don't need any special skills or tools. Just a willing heart, something to write with, and something to write on.You don't need any special skills or tools. Just a willing heart, something to write with, and something to write on.
The Complete Prayer Journaling Kit will help you learn and walk out each of these steps so that you can have a vibrant prayer life and hear God's voice on a regular basis.
I struggled too until I learned this secret . . .
Things were hard, but that was normal for me. I was used to struggling and having a difficult time. I just figured it was the way life was. You went from one hard time to the next, hoping to survive long enough to catch a break.
One night, as I sat in my room exhausted from stress, fear, worry, and caring for my children, I wanted to give up. So I did. I threw my hands in the air and cried out to God. I let Him know I couldn't do it anymore. It was too much for me. I'd tried to fix things but it didn't work. I didn't know what to do or who to turn to.
I was so lost that I didn't even know how to pray. I wasn't even sure if God was listening. And so I just sat there and cried. I cried until I had no more tears and my head hurt. And when I was done I heard a soft whisper, "I've been waiting for you."
God had been there the entire time, just waiting for me to let it all go and give it over to Him.
That night I did something I hadn't done in a very long time. I picked up my pen and my journal and I began to write. I poured out my heart on those pages. All my fears, my mistakes, my questions, and even all the ways I'd tried to fix things.
It was the beginning of a journey from despair to deliverance and healing. I had to figure out a way to reconnect with God during all the hard things I was dealing with. I knew He held the key to peace and victory and I had to do the work of seeking answers from Him.
And so I wrote in my journal. I wrote down my prayers and the answers that I felt God gave me. I wrote down verses and encouraging words from other people. I wrote out my plans and my desires.
Every time I found moments to talk to Him, He showed up with grace, hope, love, and comfort. And I began to feel more peace. I began to look forward to each day. I started to feel stronger and less afraid.
When you purchase the Complete Prayer Journaling Toolkit you'll get:
Come to the Well Ebook ($9 Value)
If you long for a closer relationship with God and a deeper faith but quiet time is a struggle, Come to the Well is just what you are looking for.
Daily time in prayer and Bible study are key to spiritual growth but with busy schedules, families to care for and hard times there just doesn't seem to be any time left for God.
Is it even possible to grow spiritually?
In a word, yes!
Through personal stories and biblical truth, this book will equip you to make real and lasting changes to your relationship with God. Come to the Well is real, honest and speaks to the heart of the matter -- how can you grow closer to God in the midst of hard times.
Are you ready to connect with God on a deeper level and finally be consistent with your daily prayer time?
Come to the Well will empower, enable and inspire to be consistent with your prayer time so you can hear clearly from God about how He wants to fight for you!
As you work through the ideas found in this book, you will:
Discover and cultivate a deeper relationship with God without worrying about how much time you do or don't have
Find out why not knowing what to write is a GOOD thing and exactly what you should do if you find yourself in that situation.
Learn why journaling is THE fastest and easiest way to discern God's will for your life EVEN if you feel completely without direction
Master the TWO STEP method for unlimited inspiration (and that always kills that inner critic) - you won't believe how effortlessly the words flow after you've tried this tip!
Uncover why it doesn't matter if you feel good enough for God and why your past DOES NOT disqualify you from a close relationship with Him
Learn the secret to experiencing God's presence in your everyday life - yep He's there in the midst of dishes, diapers and laundry!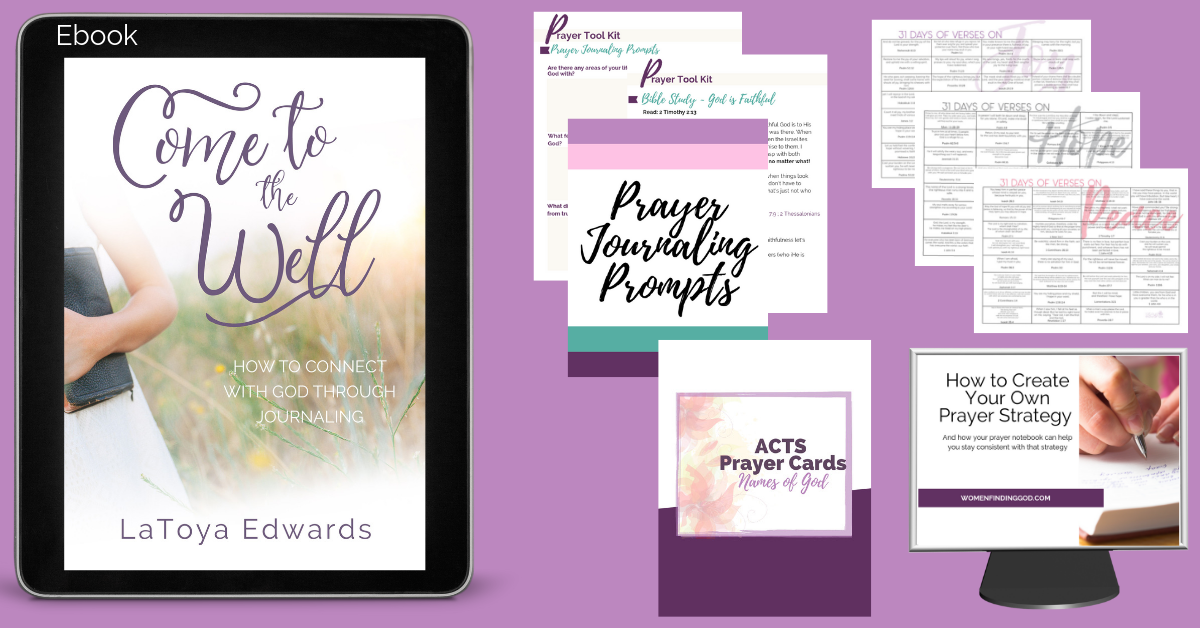 Bonus Resources: The Prayer Journaling Toolkit ($48 Value)
This Toolkit has everything you need to implement what you learned in Come to the Well so that you can establish a consistent and effective prayer life and start hearing for God on a regular basis.
Here's what you'll get:
Prayer Journaling Prompts: gives you a starting point. So many get stuck not knowing what to journal about so I put together a list prompts just for you. The prompts will help you uncover why you struggle to trust God and what your fears are.
ACTS prayer cards: give a structure to your actual prayers. Help you to hear from God by focusing on his attributes during prayer.
3 Prayer calendars: each on is themed (Joy, Hope and Peace). You'll have one verse each day to read and pray. They fit perfectly into your prayer notebook.
How to Create Your Own Prayer Strategy workshop: Learn how to use your notebook to craft specific prayer strategies for your unique situations.
Some Answers to Your Questions:
Is this a physical book that will be shipped to my house?
No. This is a digital product. Nothing will be shipped to your home. You will receive an email with links to access to all toolkit materials. Be sure to check your email for login information from Teachable.
How do I know this is right for me?
If you desire a vibrant prayer life where you know God hears you and you know you hear Him, this toolkit is for you. It will help you create a prayer notebook and strategy to help you get to know God and His plans for your life.
How long will it take to work through the material?
About 2 hours total. This includes reading the Ebook, putting together your notebook, watching the workshop and creating your prayer strategy. If you set aside 30 minutes a day you would be all set within a week.
Your Instructor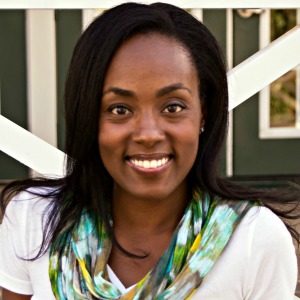 LaToya Edwards is a Christian life coach. She helps Christian women strengthen their faith and deepen their relationship with God so they can walk victoriously through trials, knowing God is with them, every step of the way. You can learn more about LaToya on her blog, Women Finding God.