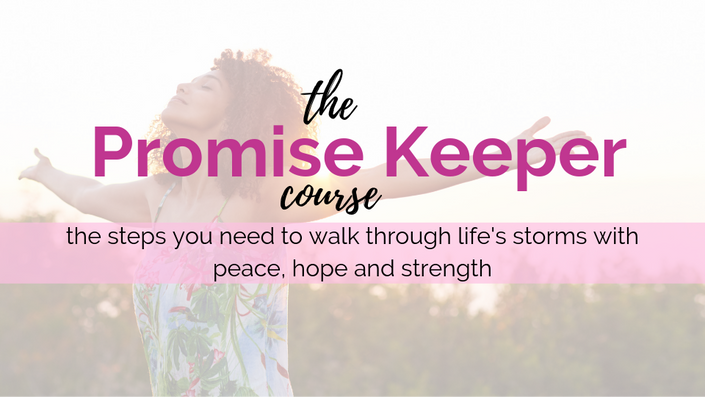 Promise Keeper
the steps you need to walk through life's storms with peace, hope and strength
Do you feel lost and overwhelmed, unsure if God is really there?
My friend, it's time to focus on God instead of all the chaos going on around you!
The Promise Keeper Course will give you the steps you need to walk through life's storms with peace, hope and strength.
I hear from so many Christian women who are walking through hard times.
They struggle to understand why so many bad things keep happening to them. They wonder how a loving God could allow so much pain and suffering.
These ladies have spent months (sometimes years) crying out to God in prayer with seemingly no answer and definitely no improvement in their circumstance. In fact, things just keep getting worse.
Can you relate?
When hard times come hope, peace and strength can be hard to find. Everywhere you look there just seems to be more suffering and pain:
You are consumed by fear and worries because you have no control over what's going on and see no way out.
You feel unworthy of God's love or blessings because of past mistakes or failures. You believe you are too much of a mess for anything good to come out of your troubles.
You know you should pray but don't know the right words to say. What format to follow. Or anything really about praying through hard times.
It's easy to give up when things get tough.
There is hope: God is faithful to fulfill every promise that He makes.
The key to finding peace, hope and strength is understanding His character, uncovering the promises and then standing on those promises in persistent prayer.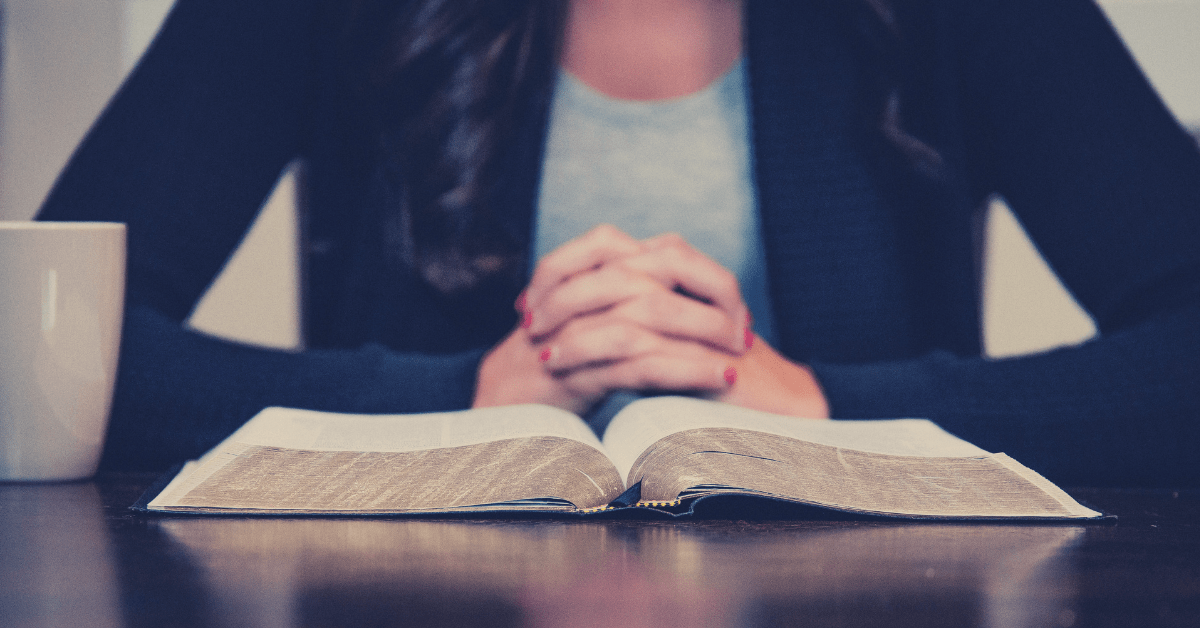 Find Peace, Hope and Strength When You Trade Worries for Worship
How can you move from that dark place to a place full of hope, peace and strength?
By worshiping God instead of worrying about your situation - putting your focus completely on Him and nothing else! I'll show you how in just 3 easy steps.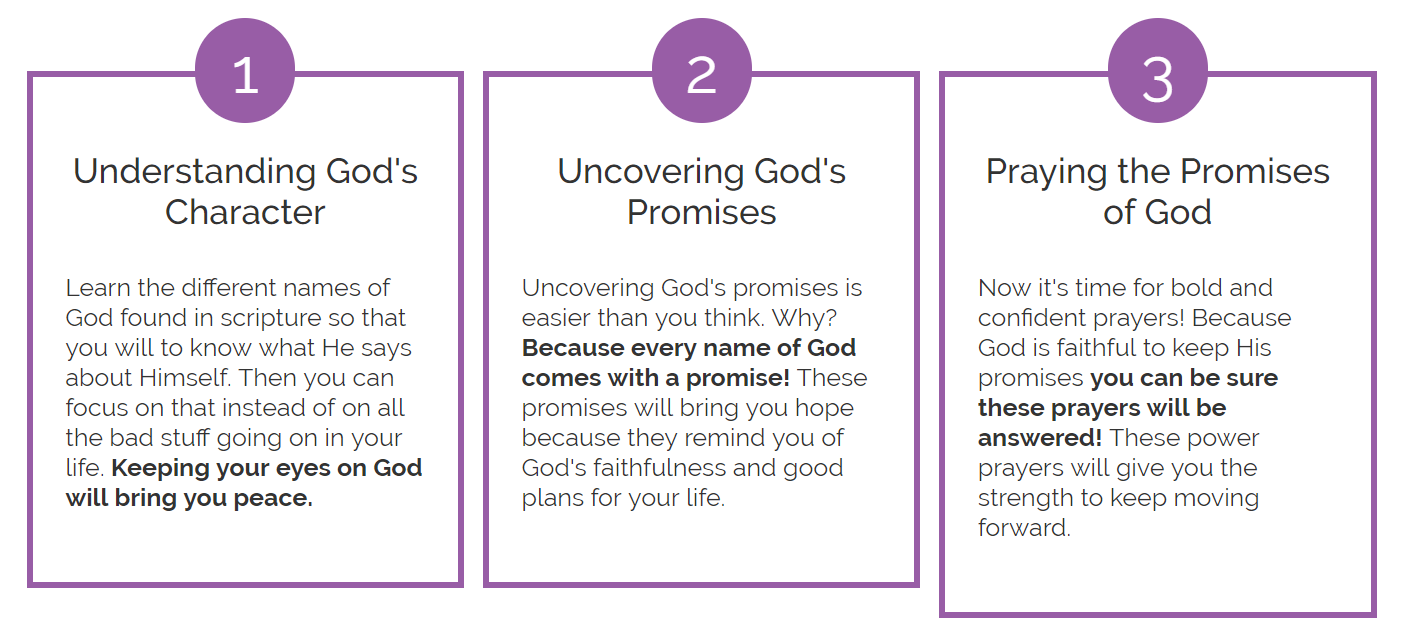 No matter what you are facing today God promises to come to your side when you call, to set you free when it seems there's no way out, and to fight for you when the battle seems hopeless. And God always keeps His promises!
The Promise Keeper course will help you learn and walk out each of these steps so that you can walk through any trial with peace, hope and strength!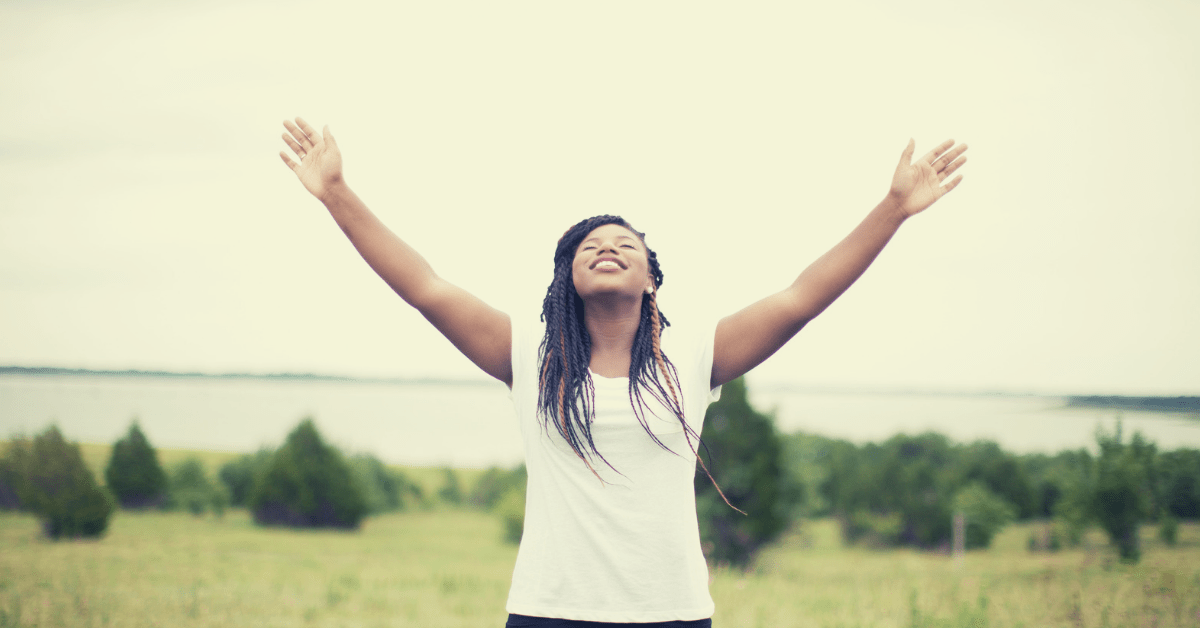 The Struggle is Real . . . But it Won't Last Forever
I was once just like you. I tried to do all the right things and fix my problems on my own. I thought if I could just say and do all the right things my life would be perfect.
When that didn't happen I was sure that God had forgotten all about me. That I was too messed up for Him to make things right. I could hear Him when I prayed and I didn't know what to do anymore.
In short, I gave up.

Well, almost. One day I realized that the only way I was going to make it through the hardest times in my life was if I learned to fully surrender to God. I needed to stop trying to fix things and learn how to keep my focus on Him.
I started praying and studying my Bible like never before. God began to feel closer to me and my situations and I was able to hope again. I started enjoying life. And I have only grown stronger and found more peace every single day.
The key to this transformation was finally learning how to focus on God during my prayers. I started praying the names of God.
Psalm 23 has been a go-to passage for me over the years as I've walked through trial after trial. One day I realized that those 7 verses were full of promises from God, based on the different names of God.
It changed the way I viewed God, myself and my situation. I learned that God is faithful and when He makes a promise I can count on it to be done.
When you purchase the Promise Keeper Course you'll get:
Training using the W.O.R.S.H.I.P. Bible study method ($10 value)
The W.O.R.S.H.I.P. Bible study method was developed to help you go deep into God's word in a short amount of time (15 minutes a day) so you can focus more on God than on your situation. Using this method will help you:
Gain the confidence to study the word of God for yourself, so that you can discover God's promises every time you read scripture
Strengthen your faith and grow spiritually through consistent time in the Word, so that you can really get to know God's character
Know exactly what to pray during your time with God, so that you can feel confident that He hears your prayers and will come through for you
Understand exactly what God can (and will) do for you, so that you can finally have peace no matter what is going on in your life
I'm so excited to share this with you!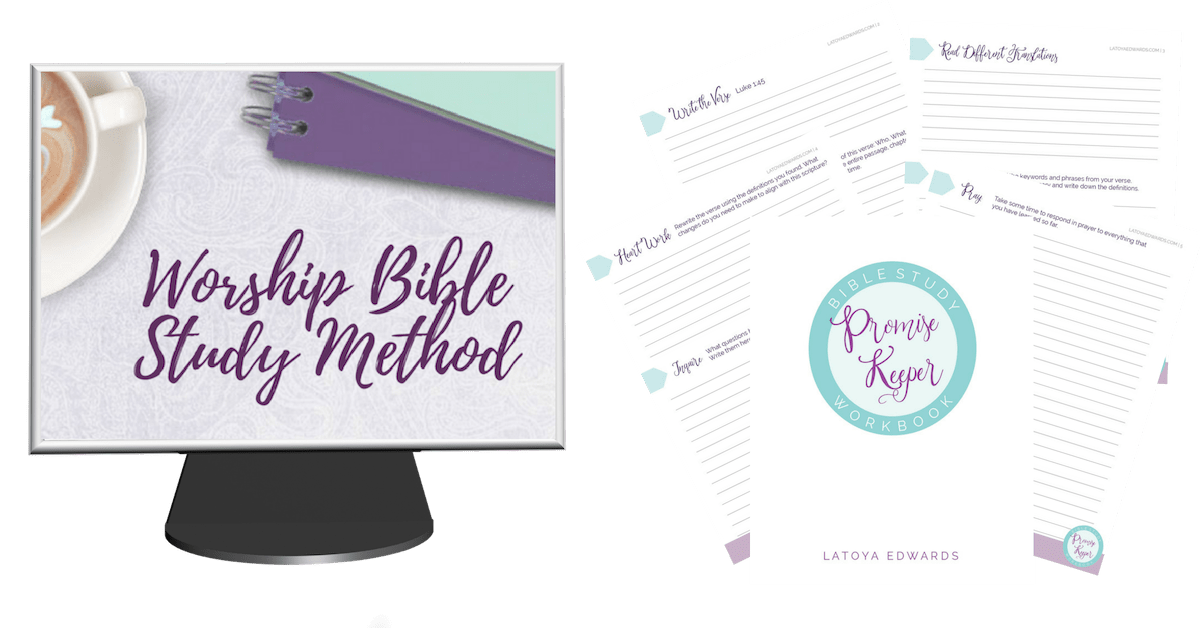 50-page Digital (printable) Bible study workbook ($10 value)
The Bible study workbook walks you through step-by-step how to apply the W.O.R.S.H.I.P. method to Psalm 23. This guide will give you a structure for your quiet time and teach you how to pull out Biblical truths and applications so you can understand:
Prayer is the key to growing closer to God during hard times (and keeping your eyes on Him instead of the storm)
Scripture reveals God's character and His promises (these promises are key to your prayer strategy)
God is faithful and wants the best for His children (that's the most important thing to remember)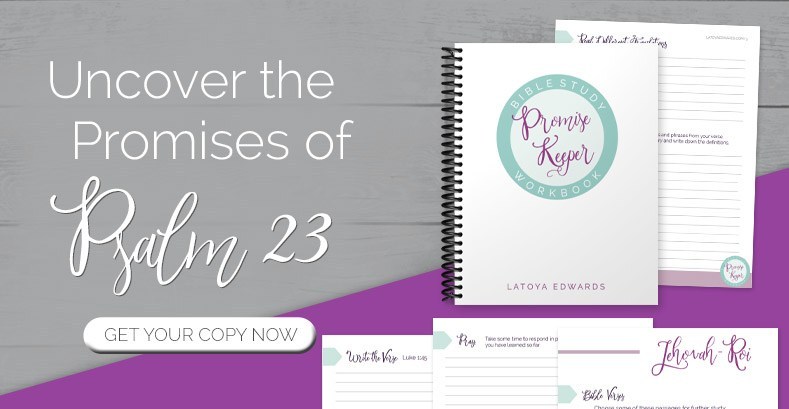 5 Video teachings and Journaling Worksheets ($27 value)
This part of the course includes deep dive teachings for each verse in Psalm 23, highlighting specific names of God and promises that you can hold onto from each verse. There's also a journaling page with additional scripture to study and journaling prompts so that you can get a deeper understanding of each name of God and how each promise applies to your unique situation.
Here's what the videos will cover
3 things that God promises to do as your Good Shepherd
Why you can trust God to see you through even when everything is going wrong
The truth about peace and why it has nothing to do with your situation
Understand that healing is more than just not being sick anymore
Why the Gospel is key to your relationship with God
Why you never have to worry about losing a battle again
You are invited to come discover the promises that God makes to each of us during hard times!

BONUS ($29 value): Praying God's Promises Workshop & the H.O.P.E. prayer strategy
I hear from so many women that they have no idea how to pray, especially when things are difficult.The Praying God's Promises Workshop will cover:
What the Bible has to say about promises and covenants, so that you will understand why it's important to pray them back to God
How to find the different promises in scripture, to help you understand what you can expect God to do for you in your situation
The H.O.P.E. prayer strategy to help you learn how to take the promises found in scripture and use them to be confident with your prayers
You'll be able to take everything that you've learned and studied in Psalm 23 and write your own, hope-filled, power prayers.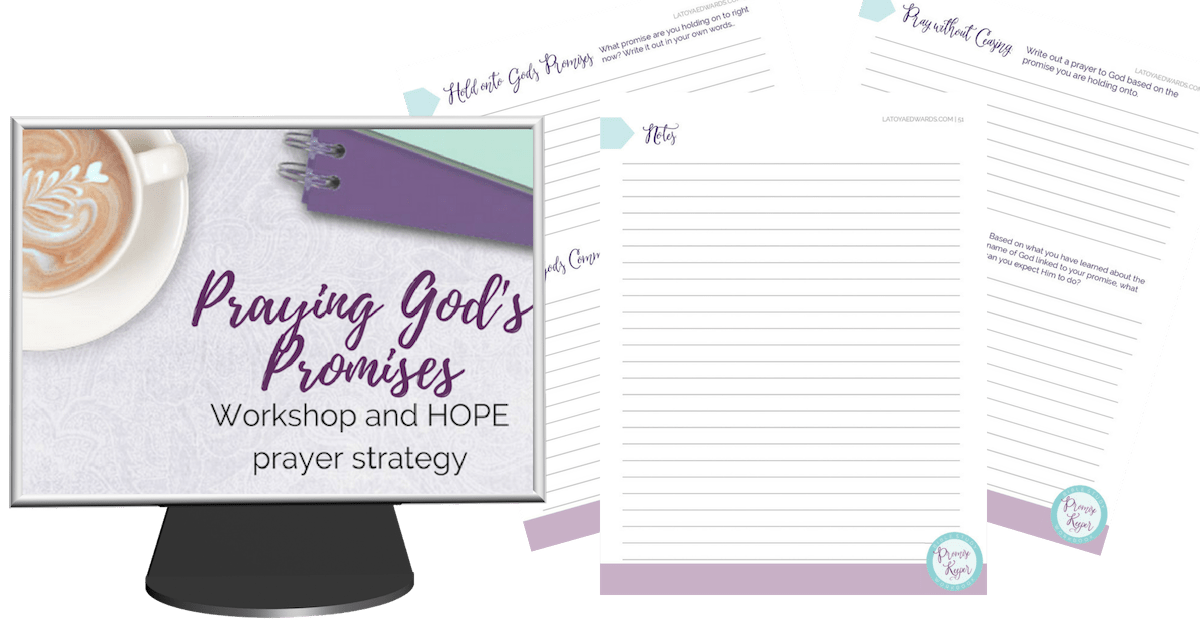 Over 500 women have been transformed by the Promise Keeper Course! Here's what some of my happy students have to say:
"I loved learning so much more about God's promises. Now I know that God will provide everything and more for me.You have reinvigorated my love for the word of God. Thank you!"
-Emma
"I wish I'd thought about undertaking a study of this type, line by line, word by word earlier. I have learned so much and by doing it have actually connected better with God. Loving the Hebrew vocabulary with meanings explained making the Bible more alive, valuable & rich to own and/or have at my disposal. #Win"
-Pou
" WORSHIP method is a better way to understand scripture. This course has been a confirmation/reminder of how much I love to study (not just read) God's word. I am looking forward to spending more consistent time in God's Word."
-Mary
"I now have a clear structure on how to start studying and how to continue studying scripture. I have grown closer to God and understand more about His character. I desire to know God through Bible study even more!"
-Angie
"I had not yet linked scripture study and worship. For me they were always separate. Before Promise Keeper I had no idea there were so many names of God in Psalm 23, now I want to know more about God's names!"
-M.
Some answers to your questions:
How does this course work?
It's simple! As soon as you sign up you will have instant access to all course materials. Be sure to check your email for login information from Teachable. If you signed up for Promise Keeper Live you'll receive a separate email with instructions on how to access the private community.
How do I know this is right for me?
If you have been struggling to see God at work in your life during any season of trials, or you are having a hard time being consistent with your Bible study and prayer time this course is for you. If you believe that God's word holds the answers for walking victoriously through life, come join us!
Does it matter if I don't know how to study the Bible?
Nope. The first week of this study will have an entire training on the WORSHIP Bible study method and we will use this method throughout the entire course. Plus this is a method that you can use with any Bible study once you learn the steps. And it can be done in as little as 15 minutes a day.
How long is the course?
The Promise Keeper course is 4 weeks long. The first week will focus on learning the WORSHIP Bible study. During the remaining weeks we will look at each verse in Psalm 23. Each day should take you 15 minutes to complete. Following this schedule we will cover 2 verses each week. With a couple days off for catching up or resting.
Your Instructor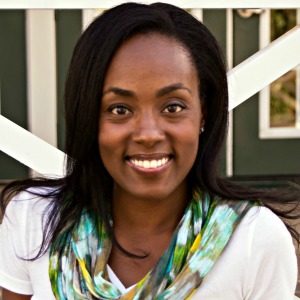 LaToya Edwards is a Christian life coach. She helps Christian women strengthen their faith and deepen their relationship with God so they can walk victoriously through trials, knowing God is with them, every step of the way. You can learn more about LaToya on her blog, Women Finding God.